The Top 10 Benefits of Choosing a Luxury Chauffeur Service with HexCars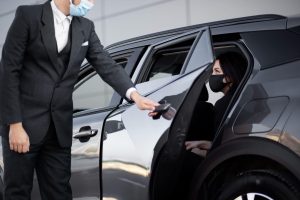 When it comes to transportation, especially for business or special occasions, many people think of hiring a chauffeur service as a luxury reserved for the rich and famous. However, in recent years, luxury chauffeur services, like HexCars, have become more accessible and affordable to a broader range of clients. Whether you need transportation for a corporate event, a wedding, an airport transfer, or simply want to travel in style, opting for a luxury chauffeur service, HexCars can offer a host of advantages that go beyond just the extravagant feel. In this article, we'll explore the top 10 benefits of choosing a luxury chauffeur service, specifically focusing on the advantages that HexCars brings to the table.
1. Unmatched Comfort and Convenience
HexCars takes pride in offering its clients an unmatched level of comfort and convenience. With a fleet of meticulously maintained vehicles, passengers can expect a plush and comfortable ride. HexCars' commitment to luxury means that you can sit back, relax, and enjoy the journey in style.
2. Punctuality and Reliability
HexCars understands the importance of punctuality and reliability. Their professional chauffeurs are known for their commitment to being on time, ensuring you reach your destination promptly and without stress. HexCars' chauffeurs plan routes carefully, considering traffic conditions and any potential delays, making them an ideal choice for business travelers with tight schedules.
3. Stress-Free Travel
HexCars eliminates the stress associated with driving in heavy traffic or navigating unfamiliar routes. When you choose HexCars, you won't need to worry about parking, traffic jams, or getting lost, allowing you to focus on more important matters or simply enjoy a stress-free journey.
4. Safety First
Safety is a top priority for HexCars. Their chauffeurs undergo rigorous training and background checks, ensuring that you are in safe hands throughout your journey. Additionally, HexCars' vehicles are equipped with advanced safety features, providing passengers with peace of mind.
5. Stylish Impressions
Arriving in a HexCars vehicle with a professional chauffeur can leave a lasting impression on clients, business partners, or guests. It's an excellent way to make a statement and convey a sense of sophistication and success. For special occasions like weddings or anniversary celebrations, a HexCars chauffeur-driven luxury car can add a touch of elegance and romance.
6. Customised Service
HexCars is known for its personalized approach to service. Their chauffeurs cater to your specific needs and preferences, whether it's adjusting the temperature, offering refreshments, or providing recommendations for dining and entertainment. This level of customization ensures a memorable and enjoyable experience tailored to your tastes.
7. Privacy and Discretion
When you choose HexCars, you can expect a high level of privacy and discretion. Their chauffeurs are trained to respect your privacy, ensuring that confidential discussions or personal matters remain confidential. This is especially important for business travelers and high-profile clients.
8. Cost-Effective
Contrary to popular belief, luxury chauffeur service like HexCars can be cost-effective, especially for group travel. When you consider the time saved, the convenience, and the ability to focus on more important tasks during the journey, the overall value becomes evident.
9. A Variety of Premium Vehicles
HexCars offers a wide range of premium vehicles to choose from. Whether you prefer a sleek sedan, a spacious SUV, or a classic limousine, HexCars has a vehicle to match your style and requirements. You can also select specific models and brands, ensuring you make a statement with your choice of transportation.
10. 24/7 Availability
Emergencies and last-minute changes can happen at any time, which is why HexCars is available 24/7. Whether you need a late-night airport transfer or transportation for an early morning meeting, you can rely on HexCars to be there when you need it most.
In conclusion, choosing a luxury chauffeur service like HexCars offers a wide range of benefits that go beyond the perception of extravagance. From unmatched comfort and convenience to safety, reliability, and customisation, HexCars caters to a diverse clientele seeking top-notch transportation solutions. Whether you're a business traveler looking to make a strong impression or someone wanting to enjoy a stress-free and stylish journey, HexCars combines practicality and sophistication. So, the next time you have a special event or business engagement, consider the advantages of opting for HexCars to elevate your travel experience to a whole new level of luxury and comfort.