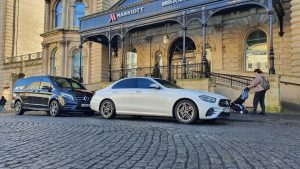 In today's fast-paced world, transportation plays a vital role in our daily lives. Whether you're traveling for business or leisure, having a reliable and efficient taxi service is crucial. At Hex Cars, we take pride in offering a top-notch taxi service that goes above and beyond to meet your transportation needs. Our comprehensive range of services, including airport transfers, business trips, luxury chauffeuring, executive minibuses, private chauffeurs, and executive hire, sets us apart from the rest. Let's explore in detail why our taxi service sets us apart from the rest.
Punctuality: Time is of the essence, and we understand the importance of being on time. We value your time and strive to ensure that you reach your destination promptly. With Hex Cars you can count on our drivers to arrive at your location at the scheduled time, eliminating unnecessary delays and ensuring a stress-free journey. We understand the frustrations that can arise from tardiness, and we make it our priority to be punctual, no matter the circumstances.
Professional and Courteous Drivers: Our drivers are the face of our taxi service, and we take pride in selecting only the best professionals to join our team. We believe that professionalism and courtesy go hand in hand, and our drivers embody these qualities. They undergo thorough training, possess valid licenses, and have extensive knowledge of the local area. Our drivers not only ensure a safe and comfortable ride but also provide exceptional customer service. They greet you with a warm smile, assist you with your belongings, and maintain a professional demeanour throughout the journey. We understand the importance of creating a positive and pleasant experience for our passengers.
Extensive Fleet: We understand that different occasions and passenger requirements call for different types of vehicles. That's why we maintain a diverse fleet of well-maintained vehicles to cater to your specific needs. Whether you require a sedan for a business trip, an SUV for a family outing, or a spacious van for group travel, we have you covered. Our vehicles are meticulously cleaned, regularly serviced and equipped with modern amenities to ensure a comfortable and enjoyable ride. We prioritize your comfort and safety, providing you with a wide selection of vehicles to choose from based on your preferences and requirements.
Advanced Booking and Tracking: We believe in providing convenience to our customers. With our advanced booking system, you can easily schedule your taxi in advance, ensuring that your transportation needs are taken care of at your preferred time. Our user-friendly online platform allows you to book your taxi with just a few clicks, eliminating the need to wait or make last-minute arrangements. Additionally, our real-time tracking system allows you to monitor your driver's location, providing peace of mind and eliminating uncertainty. You can track your taxi's progress, estimate arrival times, and plan your schedule accordingly. We aim to make your travel experience as seamless and convenient as possible.
Competitive Pricing: We understand that affordability is a significant factor when choosing a taxi service. At Hex Cars, we strive to offer competitive pricing without compromising on quality. We believe that everyone deserves access to reliable and efficient transportation at a fair price. Our transparent pricing structure ensures that you know what to expect, with no hidden fees or surprises. We provide you with upfront and honest pricing, allowing you to make informed decisions and budget accordingly. We aim to provide excellent value for your money, ensuring that you receive a high-quality taxi service without breaking the bank.
Airport Transfer Service: We understand the importance of timely and hassle-free airport transfers. Our professional drivers are well-versed in airport protocols and strive to make your journey to and from the airport as seamless as possible. Whether you're traveling alone or with a group, our spacious vehicles and skilled drivers ensure a comfortable and stress-free experience. We monitor flight schedules to accommodate any delays or changes, ensuring that you reach the airport on time or are promptly picked up upon arrival.
Business Trips: As a business professional, your time is valuable, and we recognise the need for efficient and reliable transportation. Our taxi service is tailored to meet the demands of business travellers. We offer prompt pickups, comfortable vehicles equipped with amenities for productivity on the go, and knowledgeable drivers who can navigate the quickest routes to your destinations. With Hex Car, you can focus on your business goals while we take care of your transportation needs.
Luxury Chauffeuring: When you desire a touch of elegance and sophistication, our luxury chauffeuring service is the perfect choice. Experience the epitome of comfort and style as our professional chauffeurs transport you in our premium vehicles. Whether it's a special occasion, a corporate event, or a night out in the city, our luxury chauffeuring service ensures a memorable and lavish experience.
Executive Minibus: For larger groups or team outings, our executive minibuses provide ample space and comfort. Whether it's a corporate retreat, a group excursion, or a family gathering, our executive minibuses are designed to accommodate your entire group. Sit back, relax, and enjoy the journey while our experienced drivers take care of the logistics, ensuring a smooth and enjoyable ride for everyone.
Private Chauffeur: When you require personalised attention and dedicated service, our private chauffeur service is at your
disposal. Our professional and discreet chauffeurs are committed to providing a tailored experience, catering to your specific needs and preferences. Whether it's attending important meetings, running errands, or exploring a new city, our private chauffeurs offer a reliable and convenient transportation solution.
Executive Hire: Our executive hire service is designed to cater to the discerning needs of corporate clients and individuals seeking a premium transportation experience. From luxury sedans to high-end SUVs, our executive hire fleet offers a selection of prestigious vehicles for your comfort and style. Whether it's impressing business clients, attending high-profile events, or enjoying a luxurious ride, our executive hire service delivers an exceptional experience.
At Hex Cars, we are dedicated to providing a reliable, efficient, and customer-centric taxi service that exceeds your expectations. Our commitment to punctuality, professional drivers, diverse fleet, advanced booking and tracking systems, competitive pricing, and exceptional customer service sets us apart from the rest. Experience the difference with Hex Cars and enjoy a seamless and enjoyable transportation experience for all your needs.
Choose Hex Cars for your next journey and discover the reliability and efficiency that distinguishes us from the rest.