Airport Shuttle (Transfer) vs. Ride-Sharing: Which Is Right for You?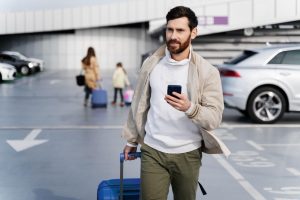 Traveling can be an exciting adventure, but getting to and from the airport can often be a logistical challenge. When it comes to airport transportation, there are several options available, but two popular choices are airport shuttles (transfers) like Hexcars and SuperShuttle and ride-sharing services like Uber and Lyft. Each has its own set of advantages and disadvantages, and the choice between the two largely depends on your specific needs and preferences. In this article, we'll explore the key factors to consider when deciding between airport shuttles and ride-sharing for your next journey.
Convenience and Accessibility
Airport Shuttles:
Airport shuttles like HexCars and Supershuttle are typically prearranged services that operate on a fixed schedule, picking up passengers from various locations and transporting them to the airport. They are known for their reliability and punctuality. You can usually book a shuttle in advance, ensuring you have a confirmed ride at your preferred time.
Ride-Sharing:
Ride-sharing services like Uber and Lyft offer the convenience of on-demand transportation. You can request a ride whenever you need it, and a driver will pick you up from your current location. This flexibility can be especially beneficial if you have unpredictable travel plans or if you're running late.
Cost
Airport Shuttles:
Airport shuttles often have a fixed fare per passenger. This can be cost-effective if you're traveling alone or with a small group. However, the cost per person may increase if you're traveling with a larger group, as most shuttles charge per passenger.
Ride-Sharing:
Ride-sharing services calculate fares based on factors like distance and demand. While they can be cost-effective for solo travelers or small groups, prices can vary depending on factors like surge pricing during peak hours. For larger groups, ride-sharing can sometimes be more expensive than airport shuttles.
Travel Time
Airport Shuttles:
Airport shuttles operate on a fixed schedule, so you'll need to plan your departure time accordingly. They may make multiple stops to pick up other passengers, which can extend your travel time. However, they are known for their reliability and are less likely to be affected by traffic delays.
Ride-Sharing:
Ride-sharing services offer flexibility in terms of departure time, but travel time can be influenced by traffic conditions and the availability of drivers. While they can provide a more direct route in some cases, you may encounter delays during peak traffic hours.
Luggage and Space
Airport Shuttles:
Airport shuttles typically have designated storage space for luggage, making them a suitable option if you have several bags or bulky items. You won't need to worry about fitting your luggage inside the vehicle.
Ride-Sharing:
The space available in a ride-sharing vehicle depends on the type of car you request. While most cars can accommodate standard luggage, it's essential to consider your luggage size and the number of passengers in your group when choosing a ride-sharing option.
Privacy and Comfort
Airport Shuttles:
Airport shuttles are shared transportation services, so you'll be traveling with other passengers. While this can be a cost-effective way to travel, it may lack the privacy and personal space that some travelers prefer.
Ride-Sharing:
Ride-sharing services offer a more private and comfortable experience as you're not sharing the vehicle with strangers. You can also choose the type of vehicle that suits your comfort preferences.
Conclusion
The choice between airport shuttles like HexCars, SuperShuttle and ride-sharing like Uber, Lyft ultimately depends on your individual needs and preferences. If you prioritize cost-effectiveness, reliability, and don't mind sharing your ride with others, airport shuttles are an excellent choice. On the other hand, if you value flexibility, on-demand service, and privacy, ride-sharing services like Uber and Lyft may be more suitable for your airport transportation needs.
Consider your group size, luggage requirements, travel schedule, and budget when making your decision. Regardless of your choice, both options offer convenient and efficient ways to get to and from the airport, ensuring a smoother start and finish to your journey.