We all know what it is, the stress before we are going to make a journey. Stress whether we've packed everything, stress about what the destination will be like, I even had the stress if I'm even in the right plane when I fly. After a while, I've found out that it is all about the preparation and taking your time, so without further ado, here is my guide for stressless travel.
Prepare well
Book the tickets in time
I always like it to have a window seat, when I am travelling with my family I want to sit next to them and most of all, I hate paying too much for a ticket. According to a study, you will get the best price if you book your tickets 47 days in advance. In 2018, I flew very regularly from Amsterdam to Bristol and I have found that booking a ticket 6 weeks in advance got me the best prices. So if you stick around the 50-40 days, you should get the best prices for your tickets and have all the time and options to get everything just how you want it.
Pack your bags 3 days in advance
Oh boy, haven't we all been there. I have forgotten toothpaste, underwear, t-shirts and one time even my coat! When you pack three days in advance you will still have these moments, big benefit is that you are still in your home so you can just add whatever you forgot in your luggage. Another benefit to packing in advance is that you know if your bag is not too heavy to be accepted into the plane. Remember to always double check the maximum weight that you are allowed to take on board when you fly.

Double check the weather
This one slots in nicely with packing your bags. If it's 30 degrees with a clear sky out there, you will not need that raincoat. But if the weather is going to be more English, well, maybe it's better if you pack that coat.
Pre-book flight transport
How are you going to the airport? This can be quite a challenging task sometimes. Will you take public transport, will family help you out or will you drive yourself and pay for the expensive parking at the airport? There is another option. You can pre-book a taxi to bring you to the airport. Often this is a lot cheaper than other ways of transport too.
Take a family of 4 who are going on holiday for a week, they live in Oxford and fly from Heathrow. This will cost them £15 on petrol/wear on the car and £133 on parking, plus you got to travel back.
Meanwhile, the price for public transport could go way over £200! When you prebook a taxi this will only cost you around £100. Looks like an easy choice for me.

Be early at the airport
Do you know airlines overbook their flights? You often run the risk of getting 'bumped' from your flight, even if you've booked and paid your tickets 47 days before! Crazy right? This is, for me, the main reason why I want to be early at the airport.
Another reason why I want to be early is, you never know how busy it is at the airport. Sometimes the queue for security can be so long that it feels like you are going to miss your flight. As a personal favourite I also like to add that it is very enjoyable to have a pint before it is time to fly as a little moment of relaxation during this very busy day.
Book entertainment during your holiday
If we assume that you are going on a holiday, then we can also assume that you want to do something whilst you are there. Everybody knows that there are certain countries where the locals take advantage of unaware travellers. Of course, they need to earn a living as well, but you want to get the best bang for your buck. Make sure you enquire, at the place where you stay, what the average prices are for day trips, renting a car, sightseeing or local restaurants. Once you know this, see if you can book some things in advance so you don't have to worry about the money when you are there.
Enjoy moments of rest
On your way to the airport
The journey to the airport can be a long one and especially draining for the little members of our family. Make sure you got enough activities to do while you are on your way. Older website talk about portable board games and games you can play in the car together. But I am well aware that we live in 2020, so make sure all the devices are fully charged or you have a fun film to show them while you are on your journey.
Travelling alone or in a taxi? You know that it is very normal to ask a taxi driver not to start a conversation? It makes their job a little easier as well as they can now fully focus on the road. This will give you a super relaxed moment of peace (or even a quick nap). With Hexcars you can expect complete privacy if you desire so, but feel free to strike an interesting conversation with our drivers too.
At the airport
As I said in the previous headlines, that pint before the flight is great. Little moments like these really up your overall holiday/travel experience. But there are many more things you can do in airports. Of course, you got the shops from many retailers. If you didn't pack your bag in advance, this is your moment to get those last little things before you go on your plane. Did you know that most airports have a room for people of all faiths to meet and make sometime for some spiritual relaxation. It is always a very special, quiet, place in a normally very hectic environment. Even if you are not interested in religion, it is definitely an experience I can recommend.

When you are flying
Flying is great and an amazing experience! When you are in the plane take some time to doze off and stare at the beautiful clouds. It always seems to amaze me. However, once that novelty wears off you might be confronted with some other events in a plane which are stressful. Let's take, for example, a chatty neighbour. The best remedy against chatty neighbours is to give short answers and wear headphones with your favourite music or TV program. This way the neighbour will understand that you want some time for yourself.
Quick tips for stressless travel
Nothing bad is going to happen
Planes rarely crash, matter of fact, there are way more car crashes than plane crashes, yet we get into a car every day. Have faith in the years and years of study your pilot has gone through and enjoy the flight.
Look forward to the fun times
When you are still at home, go on Instagram and look at the amazing real life pictures people have taken. Make lists of things to do, watch YouTube vlogs about your destination. You are going there! And it is going to be awesome!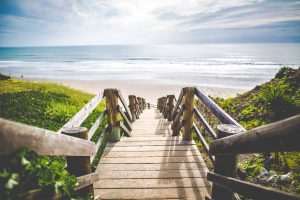 Kill these stress factors with easy solutions
Screaming kids


Noise cancelling headphones do the trick just fine. As long as they are not your kids who are screaming.

Getting lost in an unknown area


Always carry your phone with you with a downloaded map of the city where you are. This way you will always find your way back, even if there is no internet. Find out how to download a map on

Google's website

.

Getting sick


Whatever happens, stay hydrated and take care of yourself. Make sure to check if there is a GP near your location where you stay the night in case you need to use it. Very often you will find that hotels and holiday parks work with local doctors in case one of their guests get sick.

Taxi rides in unfamiliar places


We already spoke about the price, but it can sometimes also be a little creepy to get into a car with a person who you don't know. Yet again, I always recommend using the taxi service which is recommended by your hotel.
Stressless Travel
This was it, you are all set to enjoy a stress free travel! If you have more tips or advice, please let us know on our Facebook or send us a message, or even better, talk about it with us in your next taxi ride!