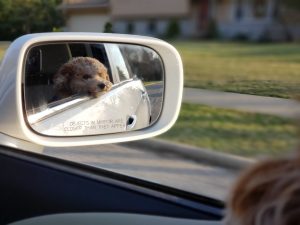 The dog, also called "man's best friend". The more discouraging it is to not be able to take your dog in a taxi! If you are going to a family member, make a visit to the groomers or you are going on a small trip, you need to bring your dog with you. The easiest way to transport your dog is to travel with him in the car.
The issue rises when you travel by taxi. Not all taxis allow dogs in their cabs. We will talk about this later, but let us give you the good news first, at Hexcars we have a pretty simple rule about dogs.
Dogs are allowed in our taxis!
We do always appreciate it if you could let us know so we can make sure we got everything in place for the journey.
So let's dive in a little deeper,
Why do taxi drivers not allow dogs in their taxis?
Of course you can state the obvious reason here:
X Dogs leave hair on the seating

X There is the possibility for the dog to be car sick

X Other damages the dog might leave
And of course there is the chance that your taxi driver doesn't like dogs, how can they live with themselves, right?
Why is HeXCars a pet friendly taxi company?
HeXCars is a pet friendly taxi company. We love dogs and most of our drivers have furry friends themselves. We think it is not more than normal to accept pets in our taxis.
When you bring your pet with you on your journey you can expect the following:
X Special care and attention given to your dog.

X We bring the blanket for your dog to lay on, but feel free to bring your own if that is easier for you.
Looking for a pet friendly taxi?
Look no further, we at HeXCars got you covered. Pre Book your taxi now and see the world with your dog! To make a booking, click here!